About Startup Nation

The complete directory for Greek entrepreneurship. Startup Nation is the one-stop portal for innovators, startuppers and entrepreneurs of any stage or type. Allows you to find Greek organizations, easier and faster.
The Greek Start-ups Directory
Startup Nation is a free directory and will always be free to use. This project is a result of hard work, research and deep market understanding that took almost 2 years. We carefully selected and categorized most of organizations, events, funds, places and resources -if not all. We try our best to keep the directory updated. We will keep on adding valuable information and resources.
What's Next
We update our information daily. Things to expect: Logo, Images, descriptions for all. Websites, emails, social links for all. Contact persons for all entries and contact data for each. Facebook comments for all. Customized information for each category (i.e. places will have their location data visible, funds will have their investment focus,events will list all relevant cities, news will list all their distribution channels e.t.c).
Greece Today
While Greece has a strategic location dominating the Aegean Sea, the Greek economy has an unemployment of 28% (youth unemployment as high as 65%) and is still under recession. Greek GDP (PPP) is $25,954 per capita and the average monthly wage is $1,135 (gross). Greece has a complexed tax framework, bureaucracy, lack of access to capital and digital infrastructures.
When it comes to taxation, the corporate income tax in Greece is 26% and the VAT tax is 23%. Penetration of Internet is 58% of population and Mobile phone is 140.5%.
The Greek Start-Ups Ecosystem
Despite Greece's present situation, the local ecosystem is rising out of the ashes of the Greek economy. Mainly since 2010, the shattered economy is now showing signs of modest recovery and is nurturing a surprising array of start-ups while attracting funding from both local venture capitalists and international.
There are thousands of entrepreneurs and some of them launched hundreds of start-ups. The invested capital has climbed to almost $60 million compared with just $600,000 some years ago. A handful of the start-ups have succeeded abroad by scaling fast internationally despite the local recession. Read more on Endeavor's reports.
Startup Nation's Author & Curator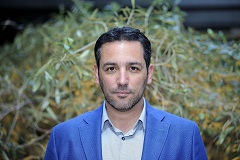 Tolis Aivalis, is the author of Startup Nation and the Founder and Managing Partner of AIVAL.COM. He is an international mentor, speaker and entrepreneur.
Born in 1973, he loves using disruptive innovative models on business and society. He helps promising businesses and talented people move their ideas forward. He has substantial management professional experience with a track record of innovation.
Interested in Startup Nation?
If you want to stand out by endorsing entrepreneurship and innovators in Greece and you are willing to support our effort This email address is being protected from spambots. You need JavaScript enabled to view it..
Contact Us
If you have ideas for items to add, or suggestions to improve this site please This email address is being protected from spambots. You need JavaScript enabled to view it..